Court of Protection, Mental Health, Vulnerable Adults & Community Care
Our Public@30 team offer a dynamic group of experts in this field, who have a broad range of experience in these complementary and overlapping fields. Members' experience covers:
After-care under S117 Mental Health Act 1983;
Applications under the Mental Health Act 1983;
Best interest decisions involving the welfare and property of incapacitated adults under the Mental Capacity Act 2005 and the inherent jurisdiction;
Capacity including capacity to consent to medical treatment;
Care standards ;
Community care including assessments of need, charging for services, children in need, care plans;
Closure of care and residential homes;
Confidentiality and access to health and social services records;
Deprivation of Liberty;
Expertise in the Social Services and Well-being Act 2014 and it's application;
Human Rights and
Powers and duties of local social services authorities; LHBs and hospital trusts; WG and Central Government.
Members appear before the Appellate courts, the Administrative Court, the Court of Protection, the High Court (Family Division), County Court and the Mental Health Review Tribunal in Wales.
Our client base is wide including private care homes, local social services authorities, LHBs, NHS Trusts & hospitals, incapacitated persons, patients and their relatives
The group accepts publicly funded work.
Consistently the only tier 1 Chambers in Wales for Court of Protection in Legal 500.
Members of 30 Park Place Chambers have extensive experience acting for local authorities, health boards, family members and protected parties in relation to both deprivation of liberty safeguards and financial disputes in the Court of Protection. Members also regularly advise and represent individuals and statutory bodies in respect of powers and duties under the community care legislation. Head of team Rebecca Harrington is 'very good with clients' and is primarily involved in welfare cases. Nia Gowman is 'knowledgeable, practical, and robust' and with Welsh language proficiency is regularly instructed by local authorities, health boards, the Official Solicitor, and family members in Mental Capacity Act 2005 and inherent jurisdiction applications, as well as sitting as a deputy district judge. Rhian Jones represents a wide range of parties in relation to health, while Laura Shepherd gives 'practical and clear advice' and is building a Court of Protection practice founded on s21A appeals against standard authorisations. - Legal 500, 2024
30 Park Place Chambers 'is the best Court of Protection and community care set in Wales'. Headed by the 'persuasive advocate' Rebecca Harrington, the team is well known for representing protected parties, local authorities, family members and health boards in financial and welfare disputes. The set reports an increase in instructions relating to medical treatment. Rhian Jones is 'energetic and enthusiastic and a tough advocate', and her practice often involves deprivation of liberty cases. The 'knowledgeable and efficient' Nia Gowman regularly acts in matters concerning the Mental Capacity Act, and her workload includes decisions about care, residence, medical treatment, marriage and sexual relations. Laura Shepherd 'routinely demonstrates excellent analytical skills and sound judgement'. - Legal 500, 2023
30 Park Place Chambers continues to be a set that is 'renowned in South Wales for being able to offer a broad set of barristers', and its Court of Protection practice is no different. Members of the court of protection and community care group act for local authorities, NHS bodies, family members, and protected parties. Praised for their 'delicate' approach, Nia Gowman's practice often involves capacity disputes, medical treatment and decisions about residence and care. Rebecca Harrington and Rhian Jones are regularly instructed in matters concerning the Mental Health Act and Mental Capacity Act. - Legal 500, 2022
'30 Park Place Chambers is home to one of the largest teams of Court of Protection teams in the region, with members acting for all parties in a wide range of cases including deprivations of liberty, medical treatment and mental capacity decisions.' and 'the market lead for Court of Protection Practice in Wales' - Legal 500, 2020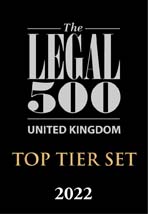 Team Members: Court of Protection, Mental Health, Vulnerable Adults & Community Care