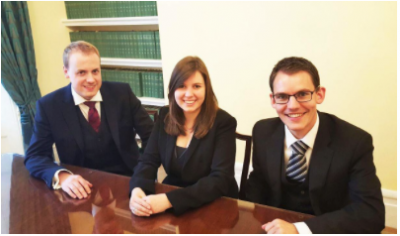 April 05 2016
The first talk of 2016 was held recently at 29 Park Place, Cardiff and considered better case management and the new digital case system currently being implemented in all Crown Courts.
Lowri Wynn Morgan and Peter Donnison explained how the new system operates, its pros and cons and how best to work with it. As part of this, new Plea and Trial Preparation Hearings have now replaced Preliminary Hearings and Plea and Case Management Hearings. This single hearing will usually be the only hearing prior to trial.
A number of stages will be set which solicitors need to be aware of to ensure compliance including dates by when papers and defence statements must be served.
All cases going forward are to be uploaded onto the digital case system which functions as an interface between the court and all parties. In this way, applications, exhibits and statements are all uploaded rather than been filed and served in the post. Whilst this system is still in its infancy it is essential that solicitors and barristers are confident in using it to ensure hearings run effectively.
For more information on the new system or if your firm requires further training please contact Lowri or Peter via clerks@30parkplace.co.uk.
Please contact events@30parkplace.co.uk to book your place.
---
Under 5's Event Diary
March 30th: Civil Law
The Under 5's Civil Law event will be hosted by Nia Gowman andSamuel Shepherd at 29 Park Place. Drinks from 5.45pm, talks start at 6pm. *NEWSFLASH* This event is now fully booked.
April 7th
Our Under 5's Family talk, hosted by Rhys Evans and Gareth Duncan will take place at 29 Park Place. Drinks from 5.45pm, talks start at 6pm. Booking is still open for this event.
All Under 5's events are free, include drinks afterwards and offer delegates 1 CPD point.
We are grateful for the support of the South Wales Junior Lawyers Division
and it's members who attend our Under 5's events.
To sign up to the JLD mailing list please click here.